Announcements & News
Summer 2023 Farmer's Market Schedule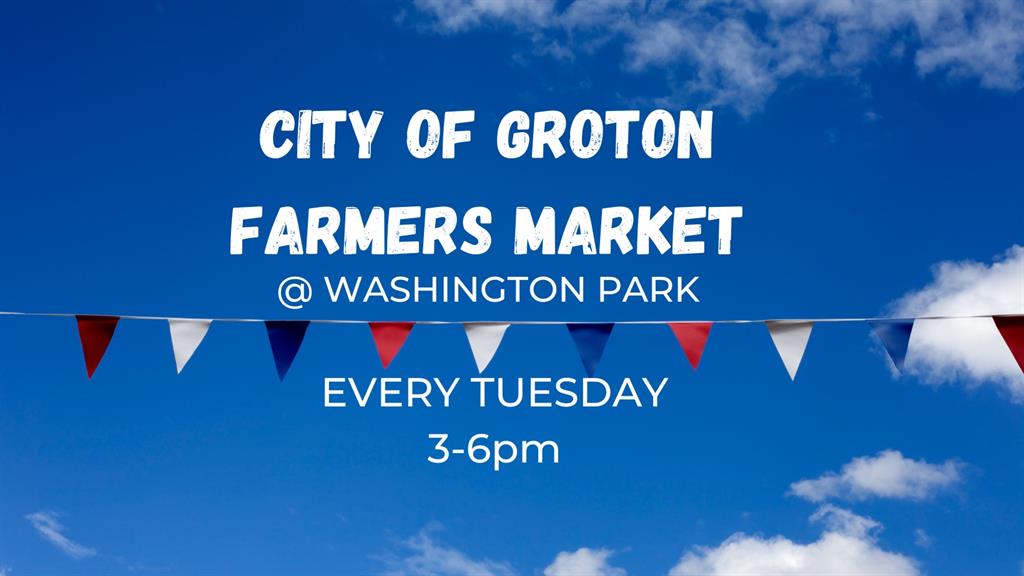 The City of Groton Farmers Market Opens Tuesday June 13th at Washington Park from 3-6pm!!
We still have spaces available for non-profit groups, community organizations, and community services to set up a table at no cost. Markets run from June 13th through October 31st. If you are interested in joining us, contact us at cogfarmersmarket@gmail.com
See you in the Park!
How do I buy a Beach Pass?
Drop Box or Mail In will be available starting May 1st throughout the remainder of the summer (ends 8/31/23). Drop off/mail in all necessary documents: copy of car registration, photo ID, legal sized self-addressed stamped envelope and beach pass fee. Pass will be mailed back to you.
The Drop Box is the big blue box at the top of the landing of the City Municipal Building.
You must include a #10 sized self-addressed stamped envelope OR add $1.00 to the fee to cover mailing. Please be sure we have your correct address for mailing. Checks made out to: City of Groton.
Mail In, please address as: City of Groton Parks & Recreation, 295 Meridian Street, Groton CT 06340. Process may take up to a week.
Online Sales
begin May 1st at cityofgroton.recdesk.com. Be sure we know what address to mail your pass to by noting that in the Notes Area if different from account's address. $1.00 will be added to cover mailing cost.
This may take 5 days to process.

Programs (recdesk.com)
In Person Sales
will begin on Saturday, May 6, 2023 from 9 am—2 pm.
In person sales take place in the City Municipal Building at 295 Meridian Street in Groton and only accept cash or check for payment. Checks made out to: City of Groton


Saturday, May 6—Friday, June 16, 2023

Monday – Friday: 4:00 – 7:30 pm (Lobby of Municipal Bldg)
Saturdays: 9:00 am – 2:00 pm
Beginning Tuesday, June 20—Thursday, August 31, 2023
Monday—Thursday: 8:00 am—4:00 pm in P&R Office
Acceptable documents to obtain a Season Beach Pass:
Current car registration of the car that the pass will go on, ID (driver's license) must match name on that registration. If you are a city taxpayer or have just moved to the City of Groton but registration does not show a City address you can show a current tax bill, utility bill, lease or deed to prove residency.
SEASON PASS RATES
(Vehicle registration is needed to purchase a pass)
City Residents/City Taxpayers $20.00
62 years old and older*
City Resident/City Taxpayer (under 62) $40.00
City Resident/City Taxpayer 2nd Vehicle $30.00
Town of Groton Taxpayer 62 yrs+ * $40.00
Taxpayer may be required to show current tax bill as proof.
Town of Groton Taxpayer $80.00
Non-resident 62 years old and older* $55.00
Non-resident (under 62) $100.00
* To be eligible for this rate, an individual must be 62 on or before Labor Day.
NEW:
Starting Memorial Day weekend season passes will be required or Daily Fee will be charged.
Weekends/Holiday only until June 17th.
Concerts in The Park 2023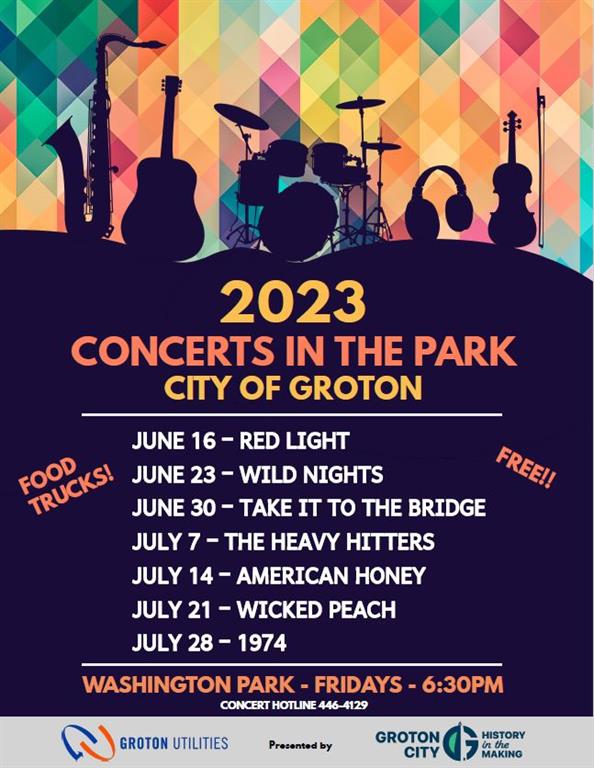 SUMMER MUSIC AT THE BEACH!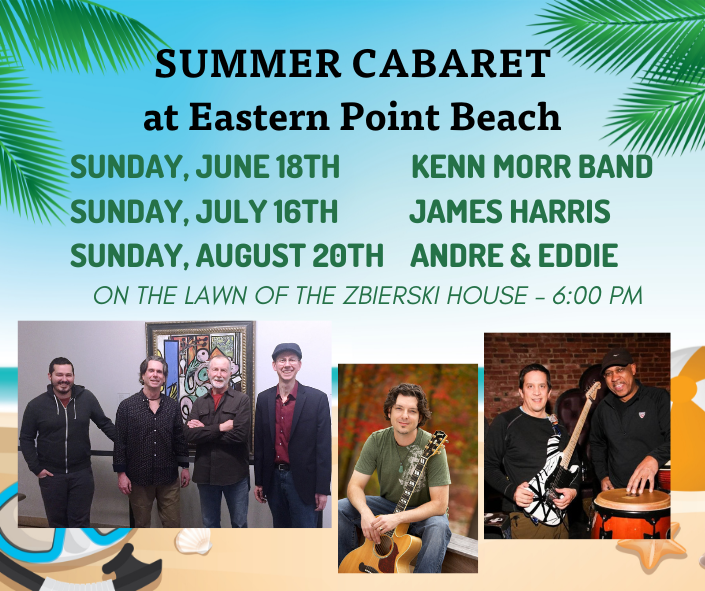 Office Hours
Currently our Office is open to the public Monday- Thursday from 8 am - 4 pm
We are available on the phone from 8:00 am - 4:00 pm every weekday and there is a locked blue Drop Box to leave us any needed documents, on the right hand side top of the landing at the City Municipal Building located at 295 Meridian Street, Groton CT.
Refund/Charge Policy
Refund Policy
There are no refunds unless a program is cancelled by the Recreation Department. In the case of cancellation by the Rec. Dept., the program fee (less online convenience charges) will be refunded via check from the City of Groton. All fees are non-refundable and non-transferrable, except with a physician's note. In this instance, a prorated credit (less online convenience charges) will be issued.
Convenience Charge
There is a $1.75 per transaction fee that will be added to your total upon checkout for all credit/debit charges and $2.50 per transaction fee for ACH. These charges are applied in consideration of the bank fees which the City bears to accept credit cards as a form of payment.